Commitment to Quality
A&A Septic Services is committed to providing the best work. We've built a company culture around exceeding our client's expectations time and time again.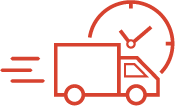 Quick to Respond
A&A Septic Services has a fleet of trucks, which allows us to be able to meet customer demand quickly–even for big jobs like municipal pumping stations.

Affordable Pricing
We understand how stretched municipal and agency budgets can be. That's why we offer affordable pricing for pump station cleaning services in the Tyler, TX, area.